Shipping Rates
We ship priority mail to all locations in the United States, Canada, Mexico and Europe only. If you want sarees shipped to India - CONTACT us first for rates. Sarisafari is physically located in Portland OR. All shipments within the US usually arrive within 2 - 5 working days after ordering. We ship your order immediately upon receipt.
Shipping and handling charges are based on weight and come to between $7 - $10 for the first sari, and goes down from there, depending on destination and weight. If you are in the US please take care to select the USPS priority mail option in the pull down menu at checkout. Express mail is also an option. Orders placed before 10am will go out that day and will be delivered next day to most US locations. Those rates will be calculated at checkout.
If you are ordering from outside the US please use the global priority mail or global express mail options that will appear after you type in your address.
If you have any special shipping needs or concerns please contact us before you place your order for different shipping rate possibilities!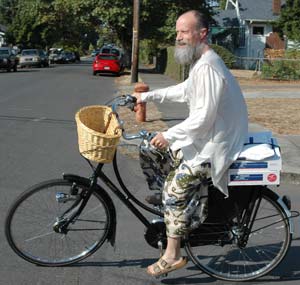 Rik, your faithful Fulfillment Wallah delivers your parcels to the Post Office in the most environmentally friendly, and of course stylish fashion on a classic Dutch city bike.
The world needs more men in LUNGHEES!